Affiliate Insider Monthly – Review, will it help me?
Hey guys! Welcome to my review on Affiliate Insider Monthly. I believe you're here because you are considering joining the AIM fam, but you wish to do some research on the program to determine if it suits your needs. I'm glad to help you with your research today! I do not wish to waste your time so, let's jump right into this!
Key takeaways 
Product: Affiliate Insider Monthly
Founders: Matt McWilliams
Membership Costs:
2 Month Trial Period: $1 (join here)
Monthly Membership: $47/month (join here)
Category: Affiliate Marketing
Marketing technique: Everything Internet Marketing
Overall rating: 9/10
Scam? No. 100% legitimate
Who is it for? Newbie to expert marketers who want to learn everything about online marketing.
*Disclaimer: This post contains affiliate links. This means that any purchases made through these links could result in me earning a commission from you, at no extra cost to you.
Here's an overview of what the review will cover
A brief overview of Affiliate Insider Monthly
Getting to know Matt better
How AIM works
AIM features
Exclusive discounts and offers
Affiliate Insider Monthly price
Cancellation policy
AIM affiliate program
Alternatives to AIM
Where to join
Verdict
A brief overview of Affiliate Insider Monthly

AIM is a membership and community for marketers of all levels of experience. Within this strong community of almost 1/4 of a million, you'll find complete newbies, intermediate marketers, as well as veteran marketers who are making 7-figures monthly.
Apart from just training and mentorship, tools, and opportunities to make new friends. It is truly a valuable all-in-one platform that makes it easy to start your online business.
Affiliate Insider Monthly is the exclusive membership & community where you learn the latest strategies and tactics to help you succeed with affiliate marketing. It is designed for beginner to intermediate platform builders who want to get started monetizing their audience or who want to learn the secrets of top affiliate marketers. Includes a monthly report, insider profile, backstage pass, fireside chat, and online community
Who The Heck Is Matt!?
Here is what he said,
"Sometimes the light's all shinin' on me
Other times, I can barely see
Lately, it occurs to me
What a long, strange trip it's been" – The Grateful Dead, Truckin'
"Think of me not as a teacher or a guru, but as a guide for you on your journey. I'm your companion, like Gandalf or Yoda, to walk with you as you embark on your quest to turn your passion and message into a profitable and growing business.
I started this section with a quote from the Grateful Dead song, Truckin', from their 1970 album American Beauty. Those four lines aptly describe my journey to this point.
How I got here and discovered my passion and ultimately built a successful business around it has been a long, strange trip indeed. Sometimes the lights have been shining on me and I've been on top of the world. Other times, I can barely see and it feels like the world is crashing down on me.
I've been through the startup phase multiple times, I've built a following from scratch, I've moved from niche to niche in search of fame and fortune only to find that my true passion and purpose was right there in front of me the whole time. As I'm writing this mini-biography, I realized that I've been publishing online for more than 15 years! I've written the equivalent of 84 books in the form of blog posts, articles, and emails to my audience. I've published more than 450 hours (that's roughly 53 non-fiction audiobooks) of podcasts and videos. And the first half of that journey could be viewed as a complete waste."
My experience with Matt
I have not had near the experience as he has. At the beginning of my online adventure, I came across his podcast "The Affiliate Guy", in my research on affiliate marketing. I followed for a while, just gaining general information from his vast expanse of knowledge on the subject.
I had been working tirelessly building my own online business and was defending the fact with my wife that it would be more than an expensive hobby! I was spending too much time and money on it for what was being produced. We were not reaping any benefits.
After listening for a while, I started getting involved and participating in this adventure. It was instantly clear to me how much Matt loved doing what he is doing, helping others learn, understand, and accomplish what they need to be successful with online marketing. His enthusiasm was contagious. I have now been personally involved and collaborating with him for a while now. I have joined and been through several courses and learned how to make the best of my business. I continue to gain knowledge from Affiliate Insider Monthly.
How AIM Works
Affiliate Insider Monthly (AIM) delivers new content every week of every month. So, no two weeks (or months) are ever the same.
Each week, a different type of content is released ranging from trend reports, behind-the-scenes access into team affiliate promotions, interviews with other affiliates, and a regularly scheduled Q&A chat time to ask questions and learn from other's questions.
Here's how the AIM content is rolled out each month so you know what to expect:
Week 1: Latest Affiliate Trends Report shares the latest affiliate marketing news, strategies, and changes.
Week 2: New Backstage Pass gives you exclusive behind-the-scenes access to Matt McWilliams' team affiliate promotions so you can learn what's working and what's not for them.
Week 3: Insider Profile of the Month is an exclusive interview with successful affiliates who share tried and true strategies and tips from their personal accomplishments.
Week 4: Monthly Fireside Chat allows you to dive into your biggest questions and greatest struggles with Matt and his team. This is a live chat with real-time answers!
This is what makes it so valuable to me. It is always evolving with the industry, keeping you on the cutting edge of development. Giving you the edge of fresh new ideas.
Affiliate Insider Monthly Features
Downloadable Trend Reports – PDF format so you can save or print for continued reference, some are videos
Private access to the Facebook Group, AIM Insider's Club, to connect with other affiliate marketers
Live case studies and recordings to watch on demand
Live Q&A sessions with Matt every month
Insider Profile
How Justin & Sara Went From ZERO to Earning 2nd Place In One Of The Biggest Affiliate Launches…In Less Than Two Years
In this month's Insider Profile Matt interviews Justin Demers & Sara Temte who recently promoted Stu McLaren's Tribe course. They discuss how Justin and Sara used a paid workshop to build a list of buyers that helped them finish in the Top 2 in this year's launch. In this Insider Profile, Justin & Sara share: how to create an audience who is willing to spend money to solve their problems, how to use that list of buyers to better target your affiliate sales, how to share your story to deepen the relationship with your audience, how to promote an affiliate offer with a partner, and more.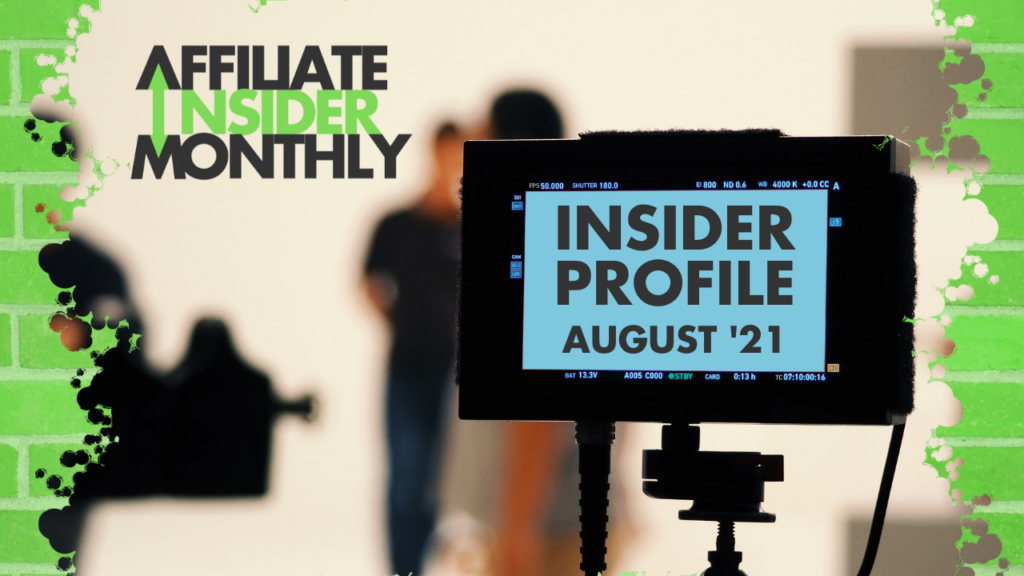 August 2021
Affiliate Trends
15 Ways to Use Affiliate Marketing to Monetize a Podcast – I love podcasts. I spend a LOT of time listening to podcasts. Podcasts have been responsible for a lot of my business growth over the years. If you have a podcast of your own, regardless of the niche, you can have access to these reports to learn how to monetize your podcast with affiliate marketing. In this month's ATM Report, podcast expert Joe Fier and Matt McWilliams share 15 ways that podcasters can monetize their podcast using affiliate marketing.
Backstage Pass
The Affiliate Insider Monthly Backstage Pass takes you behind the scenes of monthly affiliate promotions executed by Matt McWilliams's team. You'll learn various insights from how the team approaches, executes, and succeeds with different affiliate promotions. To give you an example of what you can expect in a Backstage Pass,
How to Promote An Evergreen Offer In Just ONE Week
In this from August 2021 Backstage Pass Matt and Robby dive into the exact strategies we use to promote evergreen offers. Lessons include: planning your promotion, six strategies to warm up your audience, how to differentiate your offer, how to use scarcity, plus more insider secrets.
Disclaimer: You may not be able to access all of these previously released reports. It depends on when you join and the offer around when you join. Some offers allow you to access previous reports. The most current offer only allows you to access the content released after you join.
Previous Backstage Passes cover other promotions with vivid details and insights on how to improve your affiliate promotions. A few previous behind the scenes promotions worth learning from are:
Backstage Pass for Our Best Affiliate Promotion Ever
Behind the scenes for different ways to use and promote evergreen offers
Inside look into their Black Friday Affiliate Promotion
Backstage Pass for their Product Launch Formula Affiliate Promotion
Fireside Chats
The Affiliate Insider Monthly Fireside Chats is an intimately portrayed monthly Q&A session. This monthly session is a place to ask Matt and his team your toughest questions and get help with your biggest struggles. What affiliate marketing question do you have? You can get live help with them each month.
I have seen as few as three to five people on occasions, this rare opportunity is like personal training from a seasoned professional and his team. All it takes is one lucky session like this to 10X the value of what you have in a yearly subscription. That number is not made up or a guess, If you were to request one on one coaching at a normal paid rate, it's for real, 10X!
Exclusive Discounts and Offers
Access to AIM-Only discounts, offers, and affiliate promotions. With these exclusive discounts and offers only available to Affiliate Insider Monthly insiders, you'll get access to products, services, and special offers not available anywhere else. I am not able to elaborate on this because they are usually a surprise when it happens.
Affiliate Insider Monthly Price
Two Pricing Options:
Monthly: $47 per month (Total Cost: $564 per year)
Yearly: $197 per year subscription
Affiliate Insider Monthly Cancellation Policy
Since you can try out AIM for 60 days and only pay $1, there is not really a refund policy.
Over the course of 60 days, you will get two months of trends, insider profiles, backstage passes, and live Q&A sessions for 1 buck. If you decide that Affiliate Insider Monthly is not for you, you can cancel your membership before the 60 days expires. You won't be charged any more money.
After your $1 trial ends, you can cancel at any time to prevent you from being charged the $47 for the next month.
Affiliate Insider Monthly Affiliate Program
The big question that every good affiliate will ask. Does Affiliate Insider Monthly have an affiliate program?
The answer is yes. Although it is not advertised. If you want to access it, reach out to support.
Having that said, if you do choose to join, please click on one of the links on this page. Help out a fellow marketer!
Affiliate Insider Monthly Alternatives
I haven't found any other services quite like Affiliate Insider Monthly. If you know of a quality alternative, please tell me in the comments below. It's always good to know of all options.
Where to join Affiliate Insider Monthly?
You can do so below! For $1! It is definitely worth a try! You've got absolutely nothing to lose and everything to gain! If you don't like it, no biggie! You can scold me and drop me a nasty comment below.
Verdict
Affiliate Insider Monthly is an extremely useful tool to gain all of the knowledge and experience from others to cut through making all of the mistakes they have already learned about. This is my go-to platform when I am going to try something new and where I go to learn more about what I am doing.
Here are the more thorough ratings I'll give this program
Up to date: 10/10
Research tool: 9/10
Training: 8/10
Overall: 9/10
Where to join: Affiliate Insider Monthly
Verdict: Affiliate Insider Monthly is the real deal! I would highly recommend it if you're serious about growing your online business and turning it into a money-making machine!
Is It Over Yet!
I know it has taken a minute to get here but we are finally through. I really hope my review helped you out with your purchasing decision. If you have any questions or inputs, drop them down in the comments below! I'll be sure to answer any questions you have. That's it for today folks!
If you have yet to build a website to make this all possible fill out the form below and I will show you how to start this for free!